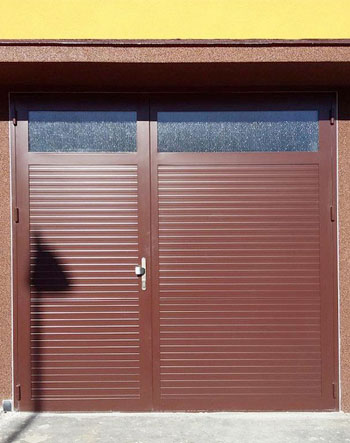 Technical specification of PPI garage doors
The basic component of a door frame and a wing is a galvanized profile (1.5mm-2mm thick), which has double sealing at a door-frame and a wing contact point. The garage doors include a single-point lock, a safety shield fittings handle/handle (door knob/handle) and a cylinder.
Garage doors are delivered with pins against disengagement of the door wing.
We deliver the garage doors with simple or double glazing, insulated with PUR filling or as the thermal insulating doors, where we use the profile with the interrupted thermal bridge. The garage doors can be completed with ventilation grid.
Warranty period: 60 months subject to compliance with the conditions for carrying out regular service inspections according to Decree 246/2001 Coll. as amended.
Surface finish:
Epoxy 2-component colour for PUR filling or burned powder colour komaxit according to RAL sampler.
Fire resistance:
The garage doors can be completed in a that meets the fire resistance standard: EI15 – EI60DP1, EW15 – EW120DP1
Assembly variants:
single wing, double-wing, with the inserted door wing
---
Examples of the garage doors solutions
Photographs of custom-made garage doors